Entrepreneur Endeavors | Capturing memories: Startup's founder inspired by death of friend's father
[Originally published in the Johnstown Tribune-Democrat on May 5th, 2019, written by Ronald Fisher.]
When a loved one dies, memories tend to live on – providing those who may be grieving with a connection to friends and family members they have lost.
Cresson native Tom McConnell has created a way to help keep these cherished memories alive.
McConnell's company, Eternal Remembrance, provides virtual memorials where family and friends can view photos and videos, and read stories, to celebrate and honor their loved ones.
"Remembering our loved ones is one of the most important things we can do for them, and we are hoping that through our product, those whom we have lost can be memorialized while helping their family and friends to gather memories they may have never knew existed from those they may have never even known," McConnell said.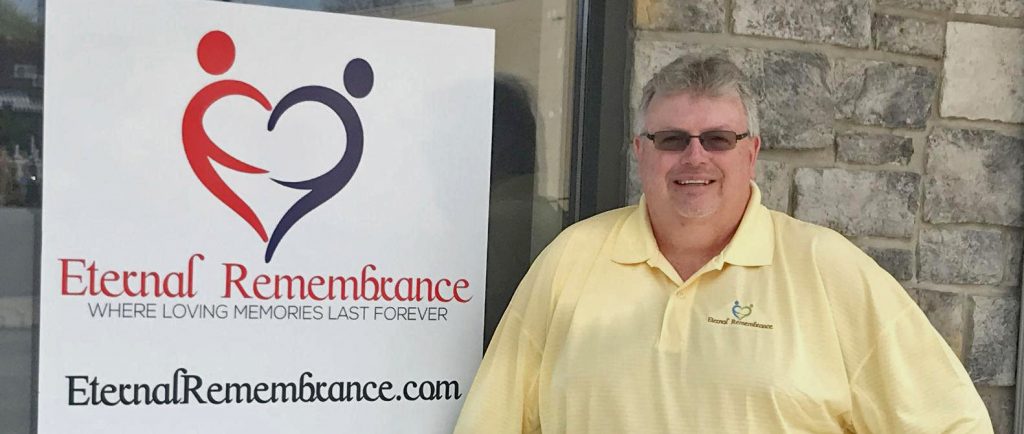 McConnell's business leverages technology so that family and friends, no matter the distance, can connect and be a part of honoring and remembering their loved ones through an online platform that includes social media tools – making it easy to share and collect photos, videos and messages, he said.
Q&A: Eternal Remembrance

Why did you choose to become an entrepreneur?

I've always had the entrepreneurial spirit, but it was the idea that there was a huge market for this. The ability to create our own future is what drew me into not pursuing another job after I lost my last one. It kind of set the wheels in motion and started the fire in the tank.

The ability to be your own boss and create a legacy that is yours, instead of working for someone else's legacy.

To what do you credit your business success?

I would credit all of the help that I've had here in the region: Startup Alleghenies, Southern Alleghenies Planning and Development Commission, JARI and Ben Franklin Technology Partners.

Ben Franklin has been a huge asset.

Between Startup Alleghenies and Ben Franklin, they've been my gold-star assistance. It's amazing to see what resources they have and what they will help you with.

This is something that I've worked at every day for the past year, so I would say persistence as well. You have to be persistent and have the drive to chase the ball, and stay on top of it.

What advice would you give to new or burgeoning entrepreneurs?

Get your ideas together and go talk to somebody like Startup Alleghenies and get their advice. They'll help you to see and discover whether it is a viable product. They helped me to discover, not only did I have a good idea, but it could be a lot bigger than I thought.

Definitely take advantage of the resources.

How do you define success?

Success is doing something that you love to do and being able to do it. Being able to have a business that I enjoy doing and creates a sustainable income for my family is something that I would consider success.

What was the most significant turning point in the success of your business?

Being picked up by Ben Franklin for an investment, because it enabled us to pay for a lot of the technology. They were able to get us funding to get off the ground and turn an idea into a marketable product.

Which individuals were the most influential in your success and why?

My wife. She's been very patient and very supportive. It's tough to go through something like this as an entrepreneur, and to have to sacrifice. For her to support me through all of that makes her my No. 1 supporter.

The second person would have to be José Otero from Startup Alleghenies.

He's been a phone call away on every decision that I've needed to make.

Third would be Bob Dornich from Ben Franklin Technology Partners. Between José and Bob, there's not a connection that they can't make.

What is the legacy that you want to leave behind?

I want to create a product that a lot of people can use and help to find memories that they never knew existed of their lost loved ones – something that will help them during their time of grief and allow their family members to learn about their loved ones that have gone before them.
Customers can purchase the company's memorial package, which includes a crafted emblem and matching coin that they can attach to a location of significance, such as a loved one's grave site. Using mobile GPS, the app then links their memorial and other meaningful locations to an online profile the family sets up. Users can even connect memories with GPS locations so others can find the streets where people lived, the schools they attended or even a favorite fishing hole.
McConnell said he was inspired after experiencing the death of a close friend's father.
"A friend of mine's dad was a local trucking company owner. He was killed when he was on Route 22 in Ebensburg," McConnell said. "On the day of his final interment, they actually closed (Route) 53 down and had all of these trucks from all over the place. He was a Marine Corps veteran, so there were big American flags and Marine Corps flags hanging from the trucks.
"It was so moving, and I thought, 'Now he's just a mound of dirt with a headstone in a cemetery,' " McConnell said.
"How could I tell more about what happened here in his honor? Then I started thinking about ways to not just talk about what happened on that day, but more about him himself.
"A tombstone is just your name, your date of birth and the day you die. There's nothing about where you were from, who you were or what you did."
From there, McConnell began to do his research and came up with an idea to tie one's memories to the GPS location of the loved one's headstone and other significant spots.
'Look for innovation'
McConnell's epiphany came at a time when he had just lost his job, which cleared the way for him to take the leap into entrepreneurship. He met with José Otero, an entrepreneur and innovation coach for Startup Alleghenies.
McConnell said the connection with Otero was pivotal in building the foundation for his business.
"I went to him with a notebook full of ideas and we've been hammering it out ever since," McConnell said.
Otero began to connect the dots for McConnell, introducing him to like-minded people and organizations such as Ben Franklin Technology Partners.
"I got in with Ben Franklin Technology and applied for their TechCelerator program," McConnell said. "I got accepted in July to the program and was later named as one of the prize-winners for that."
The TechCelerator's eight-week training provides emerging entrepreneurs with startup support – and the opportunity to explore the likelihood of success with the benefit of professional guidance.
Successful participants receive stipends to assist with initial prototyping and customer discovery expenses as well as legal and accounting advice. Participants also have the opportunity to pitch their business concepts to a panel of local professionals with the possibility of winning prizes totaling $10,000.
Bob Dornich, director of the TechCelerator program, said he was thoroughly impressed with not only McConnell's' business concept, but McConnell himself.
"We were just very impressed with Tom's application and the (connection) to the funeral business and the floral industry," Dornich said. "We try to look for innovation, we try to look for people who create jobs, and we try to look for companies that are going to make the world a better place.
"Tom seems to check all three of those boxes. And working with him was challenging in so far as he is so bright and he pushed us, which made us better. He was just a joy to work with.
"There's no doubt in my mind that he is going to be a huge success."
'One door closes …'
McConnell walked away from the entrepreneur program with a $10,000 check for his business, and was later awarded another $75,000 in grant money from Ben Franklin.
"It's very eye-opening to see what help is out there that you don't know," McConnell said. "So few people know that they're even available to do a lot of things that they do. José and the other people from Startup Alleghenies are just amazing. You can call them day or night.
"They're there through thick and thin, and they're really a resource that's invaluable," he said. "As far as I'm concerned, they're an unsung hero for anybody that they've helped. It's crazy what they can do for you."
While thankful for the support from people such as Otero and Dornich, McConnell said his journey reflects an ever higher influence.
"When I lost my job, it was kind of one of those things – when one door closes, another one opens – so we just took the ball and started to run with it," McConnell said. "It is definitely trying. When you're building something like this and have zero income for an entire year, it's definitely tough. But we're at the point now where we launched, we're ironing out some bugs, and we're ready to start selling."
McConnell said he is now working to pay it forward. His company recently partnered with the Honor Network to provide grieving military and first-responder families with a special complimentary memorial kit.
"If there is somebody who is killed in the line of duty, we are providing these sets free to the family to keep their memories alive," McConnell said.