Artist's work graces pillows: T.J. Maxx bought hipster animal art sketches from local woman
(Original Article written by Patt Keith, Altoona Mirror, August 6th, 2018)
Altoona entrepreneur and artist Sarah Vogel has a new claim to fame: Her glasses-wearing, watercolor animal art appears on throw pillows for sale nationwide at T.J. Maxx and Marshalls stores.
The throw pillows feature six different animal designs: panda, hedgehog, giraffe, alpaca, cat and the most popular pug. Vogel went and purchased all six renditions of the pillows at T.J. Maxx, 2700 Old Route 220.
A friend recognized her distinctive style and sent her a photo from the local T.J. Maxx store. (The local T.J. Maxx store does not have the pillows at this time.) The pillows are also available at Marshalls stores.
She has since received photos of folks with the pillows from admirers across the nation.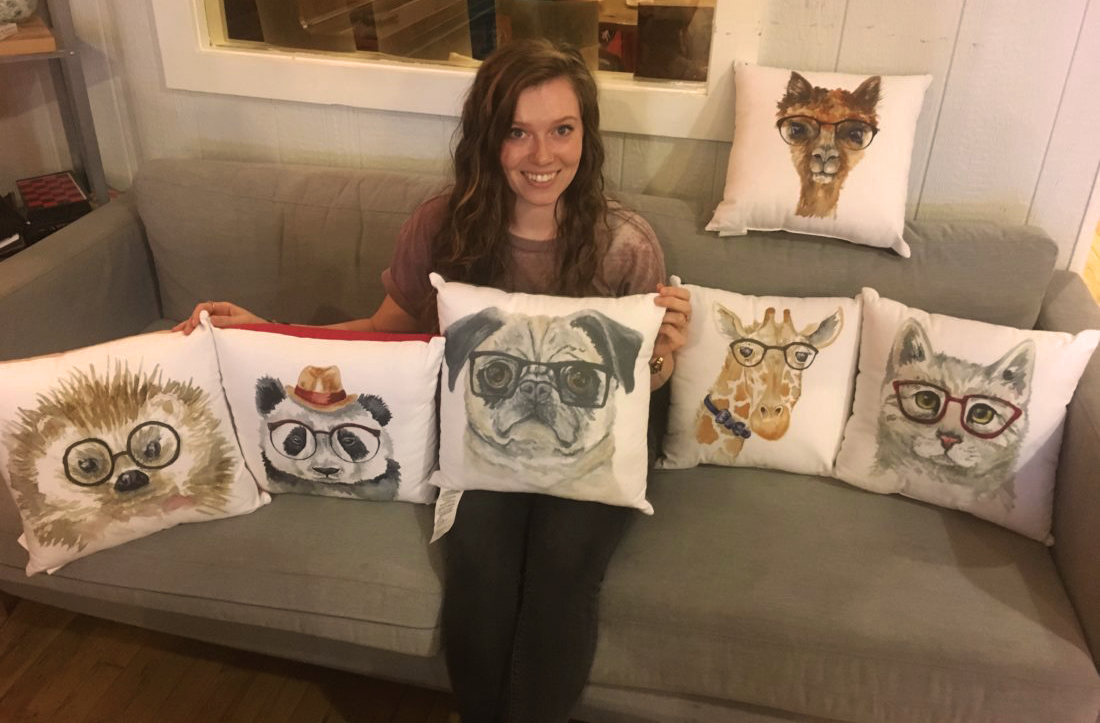 The arduous process began about two years ago, Vogel said, when she contracted with a Lancaster company to help market her art.
The company makes the art trade show circuit frequented by big box retailers and handles hundreds of artists.
When the Bellwood native received an email around Christmas 2017 containing a contract to lease her "hipster" animal art images, she thought she was being spammed. Once reassured it was a legitimate offer, her attorney reviewed the paperwork to ensure she retained the rights to the artwork.
"I had no direct contact with the company and all I knew was that a big-box store had purchased art for 9,000 pillows," she said from her downtown business The Clay Cup. In the spring she received a four-figure royalty check.
"It's passive income," she said. "It's cool to know that the pillows are in thousands of homes but it's a suspense-filled process. It's an ideal way to market my art and the opportunity created itself."
Vogel sells her works on an Etsy website and at The Clay Cup. She has various designs on canvas, wall art-sized prints, T-shirts and notecards.
Her subjects, in addition to the animals, include food, landscapes, seascapes and more.
"I'm painting food that I love," she said. "I paint what I love."
Even her food features eyeglasses. She starting using eyeglasses in her art when "hipster" eyeglasses became popular several years ago.
"I try to create something that is quirky and fun," she explained.
Professional artist Michael Allison, who is familiar with Vogel's art, said her art has the three elements needed for broad success.
"It's beautiful, readily accessible, charming and that's highly marketable," he said. "She's talented and ambitious. People are paying attention to her (work) and it's wonderful. When marketing and merchandising your art and a corporation is interested, that is a big foot in the door for any artist."
An up-and-coming local artist Abraham Onkst of Hollidaysburg has put his colorful impressionistic art on T-shirts and pillows but has self-manufactured.
He expressed admiration for Vogel's commercial coup.
"I would love to have my art on merchandise like that," Onkst said. "It's a great accomplishment to have your art in T.J. Maxx," he said. "It's not easy to get that attention. It's cool and is a good opportunity."
Looking through her 5-inch thick binder holding her works, Vogel said she started painting landscapes and seascapes to study light. Her preferred medium is water colors, but she has done a series of paintings using coffee.
While she is self-taught, art is in her genes. Her paternal grandmother Mardell Garber of Riggles Gap is a former art teacher and a professional billboard painter, and her maternal grandmother Jean Benn is a water colorist.