Building a Startup Zone in the Southern Alleghenies
Eternal Remembrance: Honoring A Special Life…Forever
Tom and Mary Jo McConnell launched Eternal Remembrance so that people can easily connect, honor and celebrate the lives of their deceased loved ones, no matter where they live, through shared stories, pictures, videos and voice recordings, creating a virtual memorial of a special life forever. Tom believes that "a headstone with a name and date doesn't tell the story of who someone was, what they were passionate about, what they accomplished in life, or even simply where they came from."
Eternal Remembrance was inspired by the experience of one of Tom's friends, who lost her father in a commercial trucking accident. On the day of his funeral, a convoy of almost 60 trucks paraded past the cemetery in Pennsylvania to honor this fellow trucker, family man, Marine veteran and community volunteer. The touching sendoff was shared extensively on social media and made the news at the time, yet today there are no photos or tangible record of this tribute. Tom wanted to tell his story, and so many others like his, whose memories begin to fade after the funeral and burial services are over.
Tom, who has a computing background, knew that technology could help fill that gap. Eternal Remembrance combines beautifully crafted mementoes with a mobile-friendly app to create a permanent online memorial to loved ones through shared stories, photos, videos, and GPS-marked locations that were especially important to them.  The emblem is designed to be mounted on their memorial if desired, and is accompanied by a matching coin that reflects a loved one's persona which can be carried around or displayed in their memory.  Plans to provide digital displays for a funeral or memorial service, with comments scrolling live from those who cannot attend is also in development.
Although funeral homes often post obituaries on their websites and allow guests to add comments, typical virtual tributes are limited in scope and longevity. Facebook memorial pages can be difficult to find, and hackers can destroy treasured information.  Eternal Remembrance offers a unique alternative, where data is stored securely and permanently on multiple servers, and app users can easily search for a loved one's information. The person creating the profile can specify privacy levels, invite others to participate, manage content and users and share the pages through all other social media platforms.
Recently, Tom and Mary Jo partnered with The Honor Network, a nonprofit dedicated to honoring heroes who lost their lives in the line of duty. They are giving back to the Honor Network, by providing military and first responder families with a complimentary memorial package. Tom believes that "by creating an ever-growing list of supporters for these families, their hero's story will continue."
Tom credits the support he received from Startup Alleghenies, especially his entrepreneur coach José  Otero, and the team from Ben Franklin Technology Partners for making his dream to help anyone experience a loss a reality.
To alert Tom about a fallen hero, please email him at heroes@eternalremembrance.com. To learn more about Eternal Remembrance visit eternalremembrance.com, or find them on Facebook.
#StartRHRN  @startupallegh
ABOUT STARTUP ALLEGHENIES

Startup Alleghenies is on a mission to bring greater economic vitality to the region by creating an ecosystem for success that recruits and supports entrepreneurs. Launched in June 2017 by the Southern Alleghenies Planning and Development Commission (SAP&DC), Startup Alleghenies entrepreneurs are mentored by coaches who provide 360 support to help them navigate a vast network of partners at economic development groups, private organizations, investors and universities–all working together to bring talent, new businesses, and jobs to the region.
KEEP IN TOUCH.
HELP SPREAD THE WORD.
Whether you're starting a business or just thinking about it, a member of the media, an investor, or someone who cares about our region, learn more about what's going on to revitalize our region's reputation as a startupzone. Sign up to receive the latest insider information.
Our Entrepreneurs
Click on an entrepreneur to learn more:
FACTS AND FIGURES

Startup Alleghenies is celebrating its first year. Here are the highlights about our 211 enrolled and active Startup Alleghenies entrepreneurs in Blair, Cambria, and Somerset Counties.
What kind of business are they creating?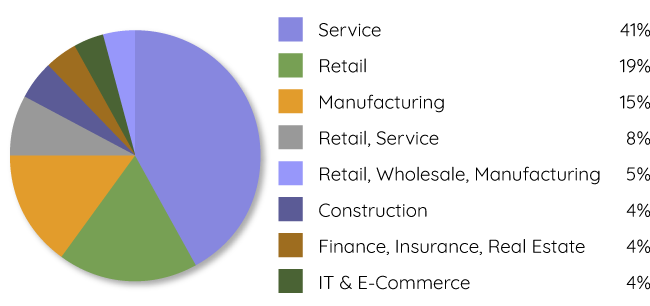 Where are the entrepreneurs coming from?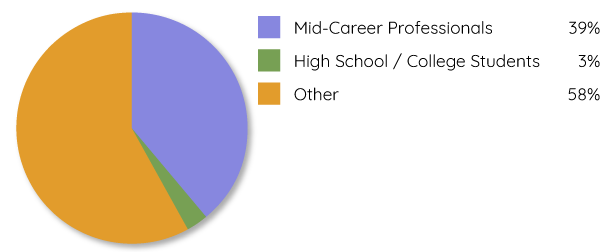 "I think we've probably hit peak Silicon Valley, and we need to figure out ways to have a more diverse, inclusive economy. We want the rust belt to become the startup belt."
–AOL Founder and Revolution CEO Steve Case, November 2017 on CNBC

(see video)