Building a Startup Zone in the Southern Alleghenies
World-Class Speakers and Innovative Business Ideas Highlight "Alleghenies Ahead: Creating an Entrepreneurial Spirit in the Workforce Conference"
 "Alleghenies Ahead: Creating an Entrepreneurial Spirit in the Workplace" was a day filled with innovative and business transforming ideas presented by leaders in entrepreneurship, workforce development and training for the future. The conference, sponsored by Startup Alleghenies and the Southern Alleghenies Workforce Development Board, was held on June 5th at the Blair County Convention Center in Altoona, Pa.
Conference speakers shared their expertise with nearly 150 business owners and managers of long-established companies, emerging companies who have been in business less than five years, and entrepreneurs of startup companies and soon-to-be entrepreneurs.
The conference was headlined by two internationally recognized presenters, Jeff Tobe and Bill Strickland. Jeff Tobe, author of Coloring Outside the Lines, is an expert in customer experience and getting the workforce more engaged for success. Bill Strickland, founder and executive chairman of Manchester Bidwell Corporation, is a renowned author, visionary educator and community advocate known for leadership strategies that turn the impossible into the possible.
Breakout sessions and a panel discussion included subjects like attracting talent with the right skillset, fostering multi-generational employee relationships, preparing your company and employees for the impact of AI innovation,  and building a more collaborative and entrepreneurial culture. Many local entrepreneurs were on hand to share their experience and advice.
Couldn't attend?  Catch what presentations you missed at our Startup Alleghenies YouTube Channel.
Startup Alleghenies is on a mission to create the next great startup zone in a six-county area which includes: Huntingdon, Fulton, Somerset, Cambria, Bedford and Blair Counties. Right now, nearly 340 entrepreneurs from these counties have registered to receive free help from Startup Alleghenies Coaches and our extensive network of partners.
If you're an entrepreneur ready to launch or grow your business, register today.
#StartRHRN  @startupallegh
Register Now for a FREE Social Media Marketing Seminar for Entrepreneurs and Small Business Owners

ABOUT STARTUP ALLEGHENIES

Startup Alleghenies is on a mission to bring greater economic vitality to the region by creating an ecosystem for success that recruits and supports entrepreneurs. Launched in June 2017 by the Southern Alleghenies Planning and Development Commission (SAP&DC), Startup Alleghenies entrepreneurs are mentored by coaches who provide 360 support to help them navigate a vast network of partners at economic development groups, private organizations, investors and universities–all working together to bring talent, new businesses, and jobs to the region.
KEEP IN TOUCH.
HELP SPREAD THE WORD.
Whether you're starting a business or just thinking about it, a member of the media, an investor, or someone who cares about our region, learn more about what's going on to revitalize our region's reputation as a startupzone. Sign up to receive the latest insider information.
Our Entrepreneurs
Click on an entrepreneur to learn more:
FACTS AND FIGURES

Startup Alleghenies is celebrating its first year. Here are the highlights about our 211 enrolled and active Startup Alleghenies entrepreneurs in Blair, Cambria, and Somerset Counties.
What kind of business are they creating?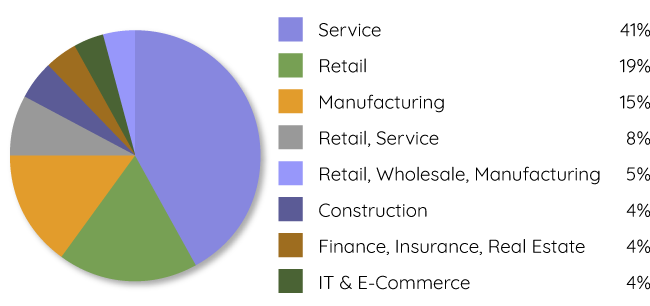 Where are the entrepreneurs coming from?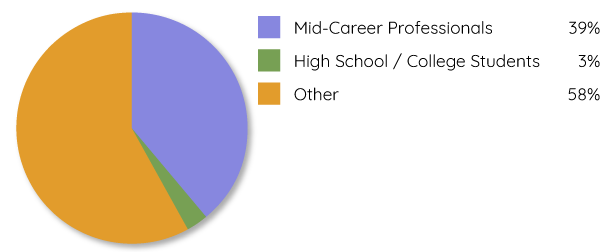 "I think we've probably hit peak Silicon Valley, and we need to figure out ways to have a more diverse, inclusive economy. We want the rust belt to become the startup belt."
–AOL Founder and Revolution CEO Steve Case, November 2017 on CNBC

(see video)